Cartons are becoming a viable option for more fluid products. They look good on shelves, they can be easily packaged, and it is a great solution for consumers and manufacturers who are keen on minimizing waste and environmental protection.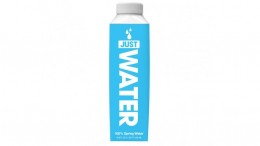 Sustainability, shelf appeal and product protection were key concerns for Just Beverages as it considered packaging options for its new spring water product. A package that combines the best features of paper-based cartons and conventional bottles--the Tetra Top carton bottle from Tetra Pak--addressed all three issues.
Just Water is filled at ambient temperature into 500-ml Tetra Top packaging. The water is sourced from a watershed at the base of the Adirondack Mountains in New York, and the product began a staged, national rollout August 2015.