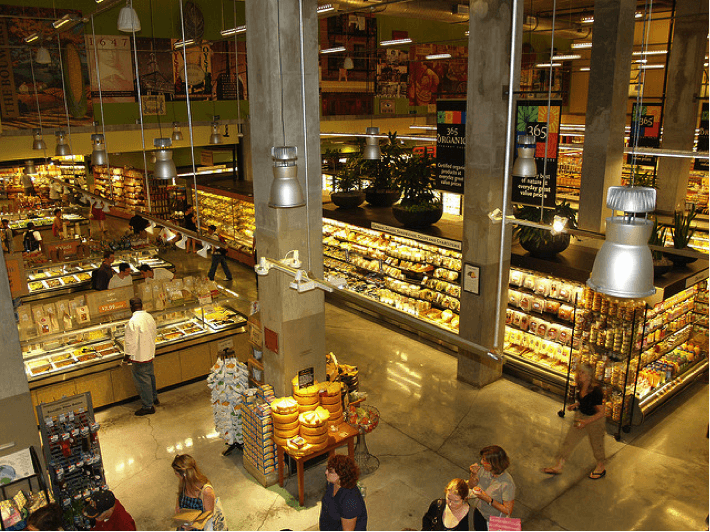 image credit: david shankbone via flickr cc
As consumers continue to demonstrate a strong preference for natural and minimally-processed foods, Fortune has declared a "war on big food." CPG executive Steve Hughes, formerly of ConAgra, stated that this is the most "dynamic, disruptive, and transformational time" he's seen in his 37 years working closely with packaged foods.
Despite the fact that many major food brands have lost ground, consumer spending on grocery items has increased significantly. Two notable trends in consumer grocery habits include increased purchases among men, and more purchases of specialty food items by consumers who earn less. While households with annual incomes of $75,000 or more still purchase twice as many specialty items, "the less affluent are buying the same wide range of specialty foods."
What Does the Growing Preference for Specialty Foods Mean for CPG?
For consumers in all income brackets, purchases of organic or specialty food items can represent a preference for healthier eating. Certain specialty items can also offer convenience for busy professionals. In other cases, specialty food items can offer luxury. For CPG brands who are hoping to align products with changing consumer priorities, it may be valuable to take lessons from luxury food brands. We've curated a list of beautiful examples of luxury food packaging, to inspire your branding or rebranding efforts.
Rokeriet Smoked Salmon
Rokeriet is a small CPG brand based in Bergen, Norway, who specializes in smoking small batches of the "highest quality, locally sourced salmon." Their product design includes transparent plastic packaging to display the vibrant color of their smoked salmon product, which is surrounded in paper packaging that resembles the weathered wood boards traditionally used in fish smoking. While textures can give a loud and cluttered effect in some packaging designs, Rockeriet is a true exception. Their use of a natural wood texture for product packaging imparts a truly luxurious and authentic feel to the package.
La Secchia Balsamic Vinegar
Distributed via London's Larder and other specialty grocers, La Secchia's Balsamic Vinegar is handcrafted in Modena, Italy. The packaging incorporates an unusually-shaped glass bottle and a stopper made from genuine cork, which communicates the tradition behind this luxury grocery product. Using vintage-looking elements and materials in CPG packaging can communicate a brand's commitment to artisanal methods or best-of-class quality standards.
Williams-Sonoma Artisan Pasta
In some cases, minimalist packaging design can be a clear indicator of a product that contains minimal ingredients, processing, or artificial additives. This concept works well for Williams-Sonoma's in-house artisanal pasta brand, which is packaged in solid-colored, opaque boxes in varied, muted tones. The packaging's primary visual draw is a varied collection of scrolling script fonts on the front of the package, which communicate luxury without being overbearing.
Nashville Jam Company
Nashville Jam Company has quickly grown from a small operation to a much larger organization, with increasing distribution in major grocery stories. Their packaging design still imparts the feeling of a product that's made locally, in small-batches, and could be distributed exclusively at specialty food venues. By using matte paper labels and muted drawings of each jam's fruit ingredients, the organization is able to clearly justify the potentially higher price of the item and establish their jams as a specialty grocery product.
Kerrygold Dubliner Cheese
Kerrygold's imported, aged sharp cheddar cheeses carry a higher price point than many domestically-made products with a comparable aging process. However, the product's packaging communicates the company's commitment to using 100% natural ingredients and traditional preparation methods. Unlike many other aged cheeses, Kerrygold uses opaque waxed paper as a primary wrapper, which clearly stands out in crowded cheese shelves. A brightly-colored label adds visual interest and emphasizes the product's status as an import.
As consumers continue to eschew products that are perceived as overly processed in favor of healthier, artisanal, and other specialty products, packaging can be critical for brands hoping to capture new buyers and create customer loyalty. Simply stating that your product is all-natural, created in small-batches, or artisanal may not be enough, especially if your packaging doesn't immediately communicate that you're different than your competitors. By taking inspiration from successful specialty brands, CPG organizations can position their products for success in a rapidly-evolving market.