Are you truly engaging with your consumers on social media? Maybe it's time to let your brand be a little bit silly in order to bring your brand story to life for consumers on social media.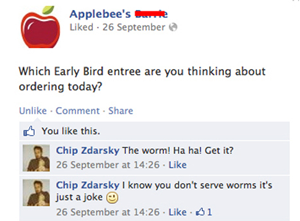 A few months ago Chip Zdarsky saw his parents interacting on Facebook with his local Applebee's. He noticed the Applebee's Facebook page -- the specific identity of which he's asked to keep secret -- was only talking to itself.
And that's when he decided to start up a friendship with the Facebook page.
Read more from the source: BuzzFeed