Amazon Dash buttons could be the bridge that CPG brands have been looking for to minimize the gap between brick and mortar stores and e-commerce.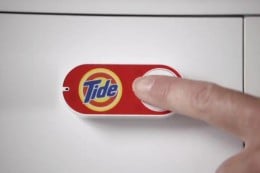 Amazon has been getting growing attention from packaged-goods brands in recent years, even if it only accounts for low-single-digit percentages of sales for most. But analysts say smaller and specialty brands often have much bigger shares at Amazon and other e-commerce players than in brick-and-mortar stores, thanks to the near-infinite shelf space online. Such brands as Method and Seventh Generation have long gotten more than a quarter of sales from e-commerce.
"Dash could be a way for the big brands to hold their footing in e-commerce," said Jason Caine, e-commerce sector lead for Millward Brown.
Amazon hasn't said exactly how the model would work, but Dash could easily become a conduit for trade-promotion funds as brands bid for buttons, which would be like miniature end-caps in millions of homes.
For now, Dash remains experimental. And it provoked so much skepticism that Amazon had to publicly affirm that it wasn't an April Fool's joke.
But the brands participating are serious.
They include Procter & Gamble Co.'s Tide, Gillette, Bounty and Olay; L'Oreal Youth Code, Clorox Co.'s Clorox Wipes and Glad Trash Bags, Kraft's Maxwell House and Mac & Cheese, Coca-Cola Co.'s Smartwater, and Kimberly-Clark Corp.'s Cottonelle and Huggies.
The move comes as Amazon is clearly focused on CPG as an area of growth -- and revenue. Last year, the retailer hired P&G veteran Sunny Jain to head its CPG business. And tapping into a growing CPG appetite for its data, Amazon recently began offering category sales numbers to companies paying $5 million to $10 million a year for advertising, according to IRI Worldwide. CPG's vast multi-billion-dollar pool of trade-promotion funding has to be attractive to a fast-growing retailer under increasing investor pressure to turn a profit after showing a loss last year.
For its part, Kimberly-Clark simply sees Dash as a way to make increasingly popular home-delivery subscription models work better.
"One of the key barriers for many consumers to participate in subscription models is the need to predict your usage," said a K-C spokesman. By participating in Dash, he said, "we are able to offer consumers greater control on when their next order of Cottonelle or Huggies will ship."
Read more from the source: adage.com