Whole Foods is just one of many retailers looking to add high pressure processed juice and higher end beverage products. Using high pressure processed packaging allows the use of fresh organic ingredients while still having an acceptable shelf life.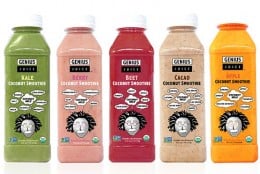 As Whole Foods continues to introduce new shelf space for high pressure processed (HPP) juice products, it's clear that the retailer is also adding room for similarly processed and premium positioned beverages in a range of other categories.
Organic coconut smoothie brand Genius Juice, for one, has made its way into retailer's Southern Pacific region. Alex Bayer, co-founder of Genius Juice, told BevNET that his brand has been approved for sale in all 50 Whole Foods locations in the Southern California and currently holds shelf space in 12.
The HPP brand is represented in the region by Hi-Touch Distribution, a DSD distributor of refrigerated and perishable products launched by Greenshoots Distribution veterans Czar Daniolco and Ben Hiddlestone and Pitaya Plus co-founder Chuck Casano. Hi-Touch, which was formed in the wake of Greenshoots' demise (the troubled wholesaler shut down operations earlier this year), also distributes Seaworth cold brew coffee, Revive Kombucha, Forager cold-pressed juices and Saint Benoît Organic Jersey milk in Southern California.
Happy Tree Bottle FinalBayer said that Genius Juice has also been picked up by natural foods distribution powerhouse Nature's Best and expanded into Northern California where the brand is sold in well-known independent grocers Rainbow Organic Grocery and Berkeley Bowl.
Read more from the source: BevNET.com