Study shines a spotlight on hispanic consumers spending more than any other demographic.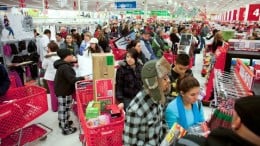 With the 2015-16 television upfront ad buying season close to kicking off, insights contained in the Nielsen Share of Wallet Study could be of great help to consumer packaged goods marketers who want to reach Hispanic shoppers.
The study not only found that Hispanics differ greatly from other ethnic groups in their purchasing habits and preferred methods of payments, but it also found that Hispanics spend at least $10 more per visit than the total market on all forms of consumer packaged goods.
Hispanic shoppers spend an average of $81 per visit on food products compared to $71 for the total market; $51 on adult beverages compared to $39; $47 on household products compared to $32; $43 on health and beauty aids compared to $30; and $37 on over-the-counter medications compared to $26.
Not only do Hispanics spend more per visit, but they also make as many, if not more, shopping trips per month than the total market. And among Hispanics, men spend more than women on most CPG categories.
The amount Hispanics spend on food and household products also increases with their annual income. Hispanics earning greater than $150,000 annually spend $127 per food visit, and $115 on household products per visit, compared to $99 and $53 national general population averages.
Hispanics also differ in the way they make purchases and utilize financial tools, the study finds. Hispanics are more likely to own debit cards and prepaid cards than the total population. Among Hispanics, 63% own debit cards and 22% own prepaid cards.
Seventy percent of Hispanics have individual checking accounts, while 57% have individual credit cards. Those percentages are slightly lower than the general population. Hispanics are also less likely to own store-specific cards, with 43% having those and store loyalty cards (38%). The latter two stats indicate that while Hispanics are very desirable customers and big spenders on CPG, retailers must constantly work to retain their business.
While 57% of the total Hispanic population own credit cards, that percentage rises with income. Among Hispanics earning between $50,000 and $99,999 annually, 71% own individual credit cards. That rises to 83% for Hispanics earning between $100,000 and $149,000, and to 90% for Hispanics earning $150,000 or more. And that percentage is higher than the 82% of $150,000-plus earners among the total population.
Read more from the source: broadcastingcable.com