Pairing products and items in-store based on solid data, can both boost sales as well as secure vital shelf space.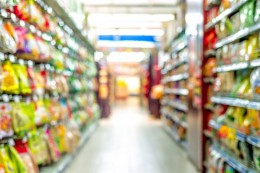 "Snack makers can boost sales and secure stronger retail relations with data-driven product pairing rather than guesswork, says Nielsen Perishables Group."
"The concept is pretty simple, but one which folks haven't looked much into or thought about: what category or products naturally fit together? Not just because people eat them together, but because they buy them together; sales are strongly correlated with each other; and they appear in shoppers' baskets more often than others," said Jonna Parker, director of account services at Nielsen Perishables Group.
"Those are really the products that have a great potential to be merchandized together and advertised together," she told BakeryandSnacks.com.
Chips and pretzels well-connected
Nielsen Perishables Group has compiled data on the most 'connected' products according to what is bought on the same trip, similar buyer demographics and sales correlation and trends. The research firm has connectivity data for 257 categories across total store, including c-stores, grocery, mass and club retailers.
"Our research was really designed to give folks a way to quickly find their partners, and snacks like chips and pretzels are a really good example because they're actually one of the most-connected categories in the entire store,"
Read more from the source: BakeryAndSnacks.com