Smaller companies and retailers are putting a bigger emphasis on keeping manufacturing local. Many options have been tested such as Spectra using economically friendly PET bottles, and small wooden stands to stick with the "local first" branding.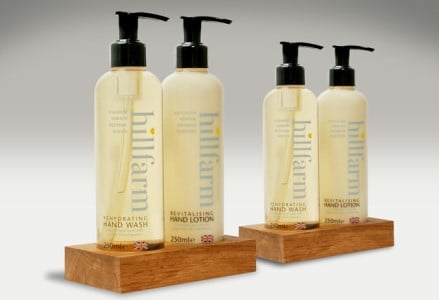 The Suffolk based family business has recently diversified into the personal care market with the launch of their new Hand Wash and Hand Lotion products, made from rapeseed oil grown on their 4,000 acre family farm in Heveningham.
Hillfarm identified that there were a huge amount of different oils used in cosmetics and believed that rapeseed oil, rich in Vitamin E and containing Omega 3, 6 & 9, could provide a totally natural kind of skin care product.
As a result, they contacted a number of cosmetics brands and manufacturers to see if they would consider using rapeseed oil. However, they were regularly told that nobody would want the name rapeseed oil on their label, preferring more glamorous names such as cucumber oil, jojoba oil or argan oil.
Read more from the source: Packaging Europe