Packaging is always evolving and the environmental impact of packaging is coming to the forefront. WikiFoods will soon be releasing it's edible membrane, water resistant packaging for a variety of edible products.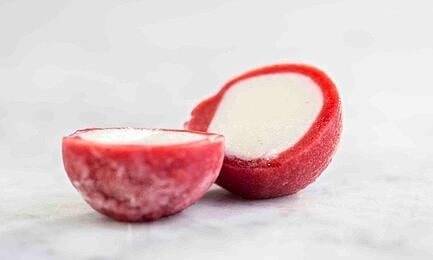 From edible water bottles to yoghurt encased in fruit flavoured skins, the packaging industry is getting creative, but psychological barriers persist.
If Willy Wonka did packaging, it'd probably look something like the WikiPearl – a soft, durable and water-resistant edible membrane, made from natural food particles, designed to protect a bite-size portion of food that it's encasing. Created by David Edwards, a Harvard professor and biomedical engineer, the intention of the WikiPearl (formerly WikiCell) is to kill the packaging and make its relationship with food symbiotic.
"It's important we don't only look at this as a way to reduce plastics in packaging, but also in the context of how nature creates its own biodegradable packaging, like the skins of fruits," says Eric Freedman of WikiFoods. The company, based in Cambridge, Massachusetts, has collaborated with the organic dairy business Stonyfield to apply the WikiPearl technology to yogurt. The Frozen Yogurt Pearls (think, small scoops of ice cream) come in coconut, peach and strawberry flavoured skins and are being sold at selected Whole Foods stores in the US.
Read more from the source: the Guardian